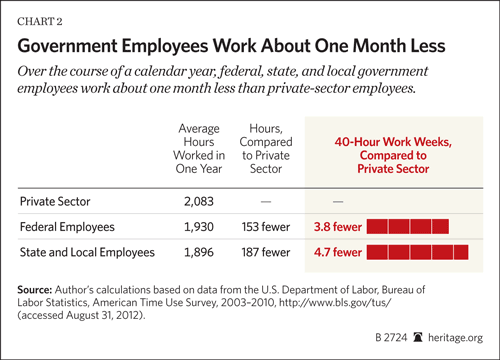 Gee, it's interesting to note the Federal employees themselves conduct a shut down much of the time. We pay the average Federal employee to work 12 months a year and they only work 11.
Do we pay them so little they are not motivated? Not the case.
Contrastingly, the Princeton study and all of the studies examined by the Government Accountability Office that take these factors into account found that federal employees enjoy a significant advantage in compensation. These studies have limitations and employ a "frequently misused" statistical technique called "multiple regression." Thus, none are the end-all, but the combined weight of these diverse studies and surrounding facts leave little doubt that most federal employees are paid better than their private-sector counterparts.
Reprinted from Just Facts Daily.
So, those Federal employees the Democrats and media are so concerned about being out of work due to the partial shut-down are really hosing us most of the time. When you can't be fired it's hard to be fired up.
How rarely do you find any pubic employee who is enthusiastic about his/her job? Post office-we need 6 employees to deliver our mail each year. Five are on disability at all times. The DMV, come on, what a joke.
How about this idea? Let's leave that 25% of the Federal Government that's shut down, shut down for 6 months or so and see how much we miss them. If, or when , they ever go back to work maybe we can get a forty hour work week from them occasionally.
Other Articles You Might Enjoy: