Perhaps Kaepernick should be protesting Nike. 
Nike worked hard to improve conditions in its factories around the world, but activists say the company has been slipping back into using sweatshops.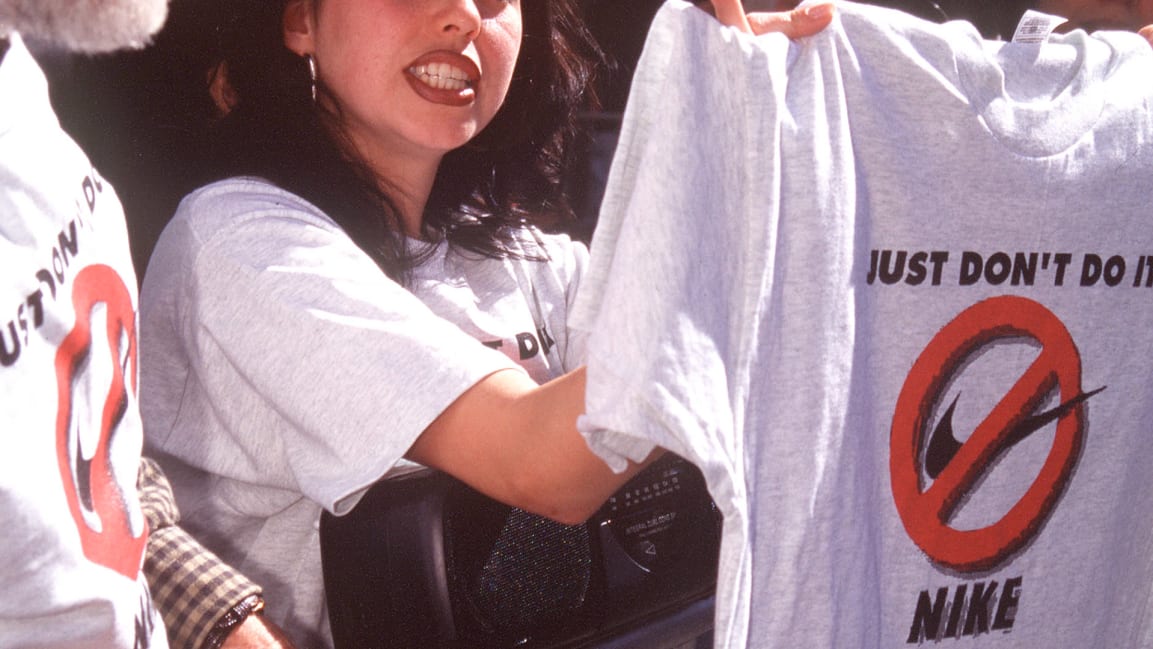 (This story has been updated to reflect a new statement from Nike about its stance on sweatshops.)
College students protesting outside Nike stores around the country. Workers recently laid off at a factory in Honduras holding a rally to condemn the sportswear giant's treatment of employees. Activists in a group called United Students Against Sweatshops (USAS) organizing a"Global Call to Action Against Nike" to draw attention to allegations of mass fainting, wage theft, and padlocked exits at factories. It may seem like a flashback to the 1990s, when Nike became the poster child for corporate irresponsibility and was regularly targeted by anti-sweatshop activists. Over the next decade and a half, the company made serious efforts to reform its practices, adopting one of the business world's first codes of conduct and winning praise from labor activists. But in recent months Nike has lost much of that goodwill, amid similar allegations, and is sparking new protests led by a new generation of activists. BenjaminSimonds-Malamud, a sophomore at Northeastern University, recently took an interest in workers'rights. Several weeks ago, he joined a conference call hosted by USAS in which union leaders at the Honduras Star factory discussed what had happened to workers when Nike abruptly ended its contract."We heard about how this had devastated the local economy there and how those workers were fighting for production–and their livelihoods–to come back,"Simonds-Malamud says. "Hearing about that firsthand had a big impact on me. I'm down to support any campaign that will improve people's lives and show solidarity with people who are being exploited."
On Saturday, he will be among the students standing in front of Niketown, a large Nike store on Newbury Street, Boston's posh shopping district. He anticipates about 30 others will join him. Small rallies like this are planned in front of Nike retail stores around the country. In the past, even small USAS-organized rallies have prompted certain stores to shut down for a few hours, forcing Nike to lose revenue.
When reached for comment, a Nike spokesperson clarified that it was not Nike's decision to leave the Honduras factory. Instead, it was kicked out by Gildan Inc., a large apparel company that recently acquired American Apparel, when it took over the facility. "Nike, along with the other brands in the factory, were informed that Gildan would take over 100% of factory production, replacing current brands with their own apparel brands," Nike's spokesperson said. "We have been advocating that Gildan work to minimize the impact on their workers."
Angeles Solis, a national organizer for USAS, makes it clear that Nike is just one of many corporations that she claims violate workers rights around the world. Her organization has also gone after Adidas, REI, North Face, and many other corporations. But since Nike is the biggest sportswear brand on the market, it is important to shed light on what it is doing and try to change it. "Nike has been a target in the past because it does have a history of sweatshop violations," says Solis. "Nike is not going to go away: It is the biggest sports apparel manufacturer in the world. So our goal is to improve worker conditions and practices." But the Honduras factory layoffs are just part of a broader pattern of activity on Nike's part that has outraged these students. Two years ago, Nike
stopped
allowing independent inspectors to monitor working conditions at Nike factories, saying that it would instead carry out these checks on its own. Since then, there have been reports of terrible working conditions inside these factories. In
Cambodia
, for instance, 500 workers inside a plant that supplies products to Nike, Puma, Asics, and the VF Corporation were hospitalized after fainting out of exhaustion and hunger as a result of working 10-hour shifts, six days a week, in 98-degree heat. Defying Nike's policy that bars the entry of investigators into their factories, watchdog group Worker Rights Consortium managed to get access to a plant in Hansae, Vietnam. It was able to
document
a string of alleged abuses there including wage theft, forced overtime, restrictions on the workers' use of toilets, exposure to toxic solvents, and padlocked exit doors. "Workers (were) collapsing unconscious at their sewing machines due to heat and overwork," the report
said
.
How much does it cost to make a sneaker?
Come on, how much does it really cost to make a sneaker? Nike must be making big bucks on those flashy sneakers. Why does it cost $100.00 to buy a shoe? What's the actual cost of a sneaker? Here is how shoe pricing really works.
Cost to make a sneaker
Starting with a basic sneaker: US retail price $70.00. The retail store buys the shoe from the shoe brand in bulk at the wholesale price, which is about $35. If this is a big retailer they may get a 3-5% discount or free freight. There it is!  BAM!  The retail store takes 50% of the price right away.?  But, they have to pay the employees, keep the lights on, advertise, and pay the rent. The store may also have to put the last few pairs on sale. If the shoe is a slow seller, many of them may go on sale. When you see a "40% off sale" that means the store is not making any money, in fact, after covering the overhead, it is a loss for the store. Okay, what share does a shoe brand like Nike get?  Remember, the shoe brand does not actually own the shoe factory. Of all the major sneaker brands only New Balance has their own shoe factory. So, what did the brand pay for that $70.00 shoe?
The real cost
The real cost to make a $70.00 shoe is about $15.00. Once the brand buys the shoe from the factory, the shoe needs to be shipped. Most shoes are shipped by ocean freight. Ocean freight from China to the USA is about $.50 per pair. A 40-foot shipping container, the size of a semi-truck trailer, holds about 5000 pairs of shoes. 5000 X $.50 = $2500.00 That price will get a shipping container from China to California. Once the shoe arrives in the USA it must be legally imported. In the case of a leather sneaker, the US government requires an import duty of 8.5% of the F.O.B. price. So, add $1.32 to the cost. Also, add another $.32 for customs and insurance. Now the shoe is in the warehouse: ? $15.00 + $.50 + $1.32 + .32 = $17.10 What does the shoe retail for? Upwards of $300.
Who buys the shoes? Of they are Air Jordans, kids who aspire to be cool or great on the court.
According to this video by GQ, over 1,200 people are killed each year for their sneakers.
So, how bad is Nike?
Let's recap. They use a man who is destroying the NFL, Kaepernick and a woman who just disgraced tennis, Serena Williams as spokespeople. The use sweatshops in Asia to make the shoes with cheap child labor, then sell shoes that cost them $17.00 for $200-300 to poor kids who get shot for their shoes. They use disgraced athletes to promote the shoes.
Here's the commercial:
What did he sacrifice? He got paid millions from Nike to make this commercial. He turned down two contract offers after being cut by the Niners. He puts himself in a commercial with people who made real sacrifices and are all star athletes. He is neither.
I'll never buy another Nike product in my lifetime.
Other Articles You Might Enjoy: