People's habits for communicating and receiving communications are changing. Politicians and  the media are going to need to adjust. Robo political calls to homes are going to be a thing of the past. (thank God). Newspapers will be gone, at least the major metro papers. Now, TV sets are leaving the households much like phones did. While I didn't show statistics, cable subscriptions are down as well. Soon, very soon, all will be wireless. Trump may be way ahead of the trends with his much maligned tweets. One on one messages on a cell phone, lap top, or I-Pad. The opportunity for media to influence an  election will become negligible since the demand for their product now is already marginal for the 60 million voters who favored Trump. Good luck, CNN, MSNBC, ABC, NBC, CBS, the New York Times and Washington Post.  The countdown to your usefulness has started.
Landline Phones Are Getting Closer to Extinction
It's not just Millennials anymore—a growing number of older American adults are getting rid of their landlines and going cellphone-only. 41 percent of U.S. households were wireless-only by of the end of 2013, according to new data from the National Center for Health Statistics.
Young adults are unsurprisingly the cohort the most likely to live in wireless-only homes, with 66 percent of people between 25 and 29 using cellphones exclusively. Americans between 30 and 34 were the next largest group of cord-cutters, with 60 percent of them living in wireless-only homes. 53% of people between 18 and 24 are now cellphone-only, while 48% of people aged 35 to 44 and 31% of people aged 45 to 64 have made the jump.
Just 14% of adults over 65 have dumped their landlines, though. Overall, more than half of wireless-only adults are now 35 or older, up from 47.6% in the second half of 2010.
People who live at or below the poverty level are also more likely to forego landlines. Fifty-six percent of people in that group live in wireless-only households, while 46% of of people who live near the poverty level and 36% of non-poor people are cellphone-only.
Americans' growing reliance on cellphones helps explain the increasingly heated battle over consumers among the major wireless carriers. But these devices are hardly even being used in the same way landline phones are. Sixty-three percent of U.S. adults use their phones to go online, according to the Pew Research Center, and cellphone carriers now generate more revenue from data fees than from voice calls.
Newspapers are in more trouble yet.
 Following last year's presidential election, some major U.S. newspapers reported a sharp jump in digital subscriptions, giving a boost to their overall circulation totals. The newspaper industry as a whole, however, faced ongoing challenges in 2016, according to new Pew Research Center analysis.
Yearly financial statements show that The New York Times added more than 500,000 digital subscriptions in 2016 – a 47% year-over-year rise. The Wall Street Journal added more than 150,000 digital subscriptions, a 23% rise, according to audited statements produced by Dow Jones. And the Chicago Tribune added about 100,000 in weekday digital circulation, a 76% year-over-year gain, according to its filings with the Alliance for Audited Media (AAM), an organization that verifies many daily newspapers' circulation figures.
But these gains did not translate into circulation growth for the industry overall. A Pew Research Center analysis of data from AAM shows that total weekday circulation for U.S. daily newspapers – both print and digital – fell 8% in 2016, marking the 28th consecutive year of declines. (Sunday circulation also fell 8%.) The overall decline includes a 10% decrease in weekday print circulation (9% for Sundays) and a 1% decline in weekday digital circulation (1% rise for Sundays). Total weekday circulation for U.S. daily newspapers fell to 35 million, while total Sunday circulation declined to 38 million – the lowest levels since 1945.
Now, it's TV sets going out the door.
After years of insisting it wasn't so, the TV Industrial Complex now admits that it's contracting: The number of people paying for TV has been declining for several years.
But that's not the only part of the TV world that's shrinking: Actual TV sets are disappearing from homes, too.
After years of steady increases, the number of TVs in homes shrank to an average of 2.3 in 2015, down from an average of 2.6 televisions per household in 2009, according to the latest available data from the Energy Information Administration.
The best-case scenario for that, put forward by the people who sell TV programming for a living, is that Americans are watching TV on devices that aren't TVs, like laptops, tablets and phones. The flip side of that argument: You can do lots of other things on those devices, which creates even more competition for TV viewing time.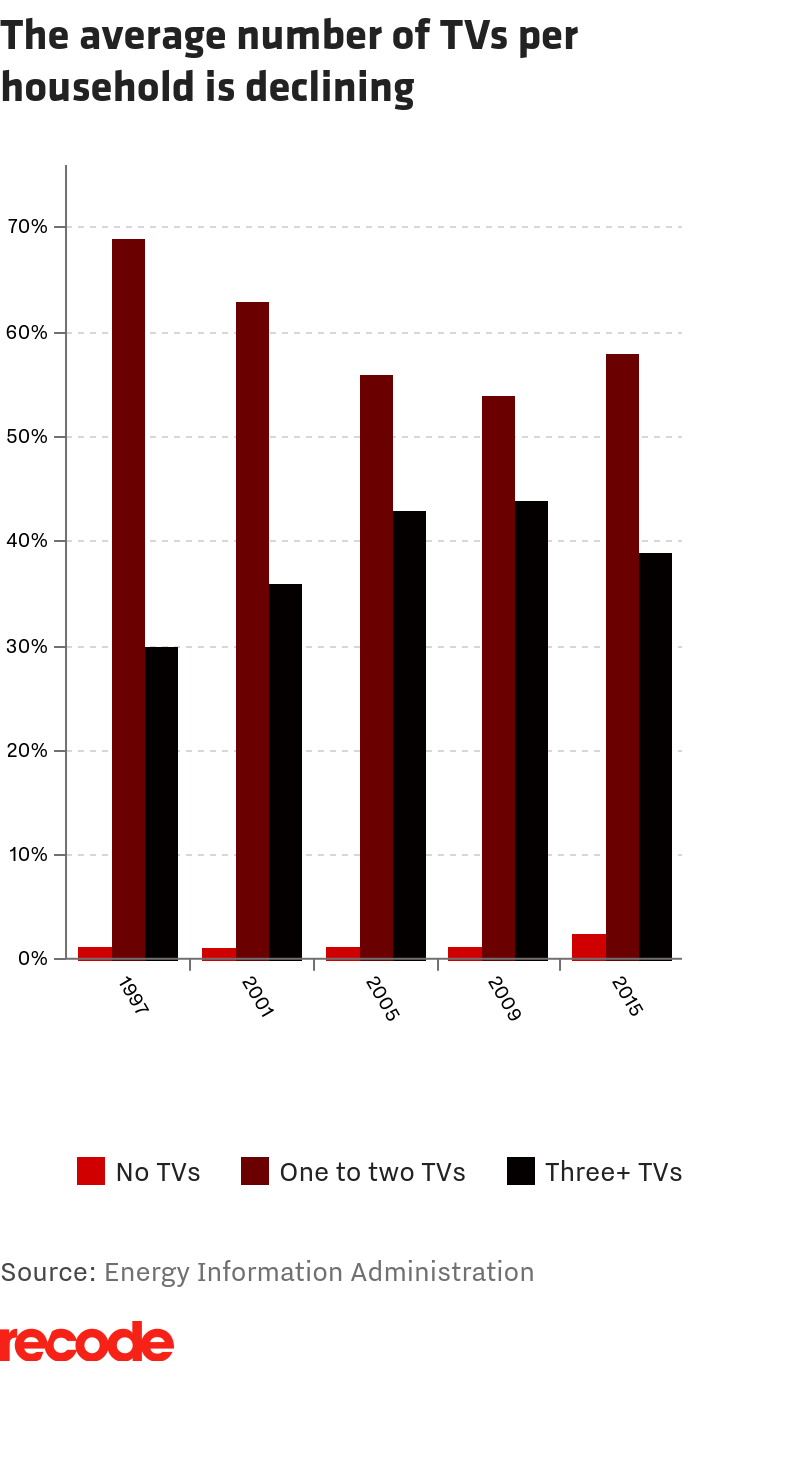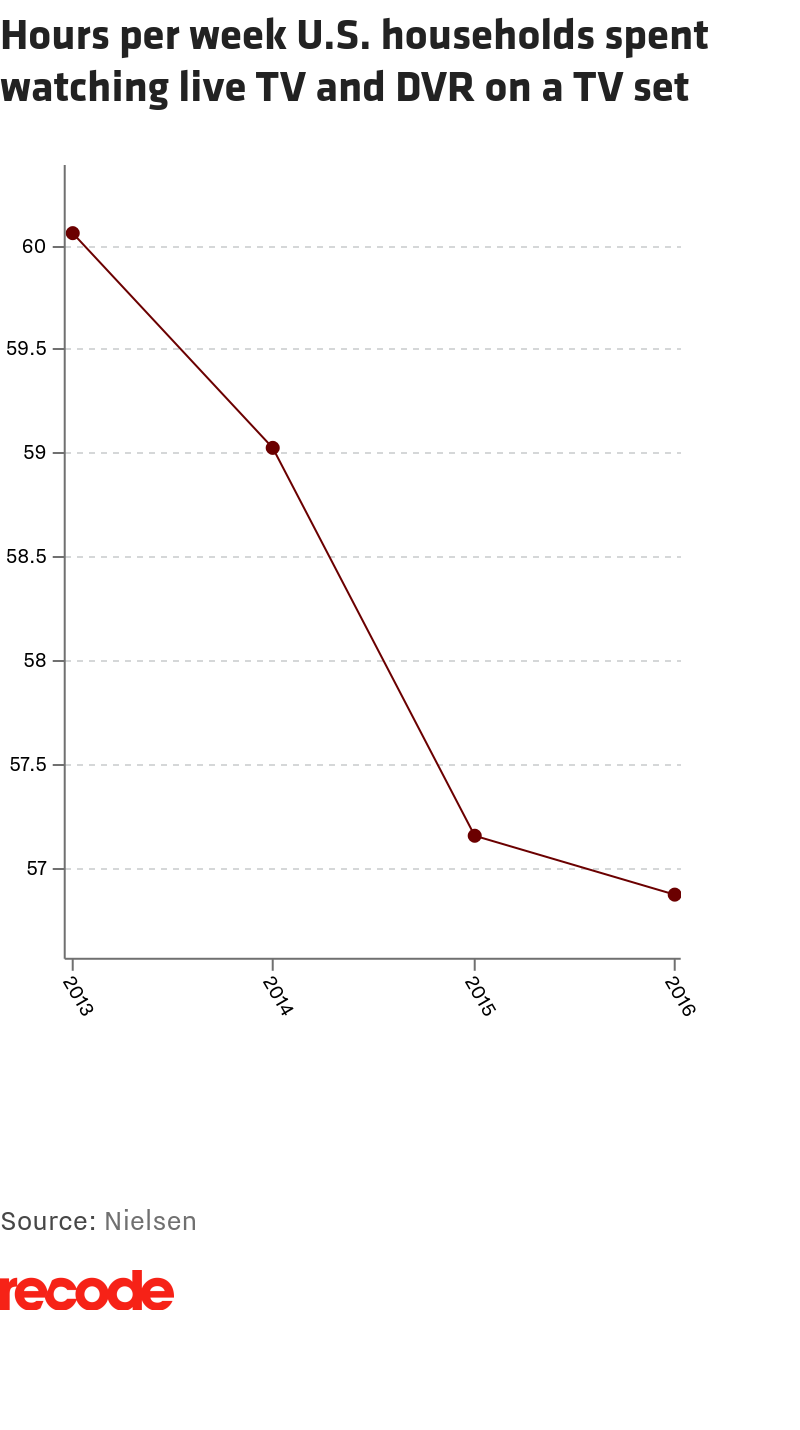 ---
Other Articles You Might Enjoy: