Let's start with newspapers. I just experienced my annual reminder of the ignorance of this industry. Try changing an address for a newspaper. If you wanted to start a subscription for any major newspaper you might think the web page would feature that option since the industry is dying. Try it. I defy you to find the link to be a customer on any site. Since they all just pander to the left, even the Wall Street Journal more and more, they exclude 63 million potential buyers. Then they make it impossible to buy the product. Says volumes about liberals, doesn't it? But, they still tell you how to vote each election.
About a third of large U.S. newspapers have suffered layoffs since 2017
Newspaper layoffs have far from abated in the past year, and digital-native news outlets are also suffering losses, according to a new Pew Research Center analysis. At least 36% of the largest newspapers across the United States – as well as at least 23% of the highest-traffic digital-native news outlets – experienced layoffs between January 2017 and April 2018, according to the study. Among newspapers, those with the highest circulation were most likely to be affected. The analysis comes amid a series of highly publicized staff reductions by hedge fund companies that had acquired well-known newspapers, including The Denver Post, where employees publicly criticized the cuts made by the papers' owners. To reach these estimates, the Center searched for and examined news articles that cited staff layoffs at 110 newspapers and 35 digital-native news outlets. Using these sources, the study tallied layoffs at daily newspapers with total Sunday circulations of at least 50,000 in the fourth quarter of 2017 (as measured by the Alliance for Audited Media), as well as The Wall Street Journal, which has no Sunday edition. Layoffs were also tallied for digital-native news outlets with a monthly average of at least 10 million unique visitors during the same period, as identified in the Center's annual research on the state of the news media for the digital news sector. The news articles examined did not always mention the kinds of positions eliminated, so the layoffs analyzed here were not necessarily of newsroom employees. Of the 110 daily newspapers in the analysis, 40 – or 36% – were found to have gone through publicly reported layoffs during the 16-month study period, with at least 12 experiencing more than one round of layoffs. It is possible that even more occurred but remained under the radar of the search methods employed in this analysis.
Larger newspapers – those with circulations of at least 250,000 – were more likely than smaller-circulation newspapers to have experienced layoffs between January 2017 and April 2018. Nine of the 16 newspapers with circulations of 250,000 or more (56%) had layoffs. By comparison, that was true of 16 of the 44 newspapers with circulations between 100,000 and 249,999 (36%) and 15 of the 50 newspapers with circulations between 50,000 and 99,999 (30%). While news reports did not always provide the exact number of newsroom staff being laid off, some broad conclusions can be drawn from the data. Of the 35 newspapers for which the Center could determine the number of laid-off newsroom staff, about half (49%) laid off 10 or fewer employees, according to the analysis. The cuts tended to be larger at eight digital-native news outlets where the number of layoffs could be determined: Only one outlet laid off fewer than 10 employees. (For more details on how these were counted, see the methodology.) NN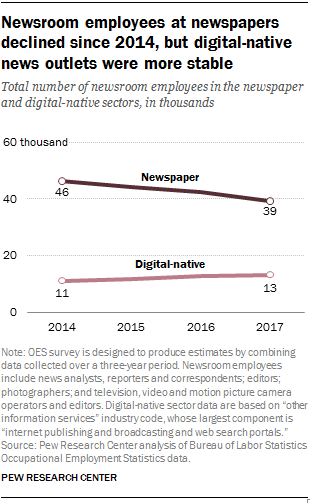 The prevalence of layoffs at newspapers in the analysis during the 16-month study period reflects recent employment trends in the newspaper sector, according to the
Bureau of Labor Statistics
. Between 2014 and 2017, the number of newspaper newsroom employees dropped by 15%, from about 46,000 to about 39,000. There was no significant change in digital-native newsroom employees, however, as the number remained around 11,000 to 13,000 over the same three-year period. Layoffs at digital-native news outlets, in other words, may have been offset by hiring at other outlets, which was not part of this analysis.
Next, we can look at the TV Ratings. Same story here:
September 21, 2019
TV Long View: Five Years of Network Ratings Declines in Context
A new TV season begins Monday, and with it, probably, another season of linear ratings declines for the broadcast networks. That's not exactly news: Nielsen numbers have been on the wane for years on ad-supported TV (both broadcast and cable), and the continued proliferation of viewing options — hello, Disney+ and Apple TV+ and HBO Max and Peacock — and shrinking number of people with cable or satellite subscriptions likely means the slide won't suddenly reverse itself in 2019-20.Explanations for the decline usually come down to "cord-cutting" and "streaming," which make both intuitive sense and are backed up by data. That's not the whole story, however: Networks themselves have adapted to the streaming era, as have viewers, who are now accustomed to having full seasons of shows at nearly any time — something that wasn't the norm just five years ago. The Hollywood Reporter looked at some trends both in ratings for the past half-decade and in the way consumers get their TV content. The numbers help put the decline of on-air ratings in context. In fall 2014, according to an annual survey by Leichtman Research Group, 84 percent of TV households in the U.S. subscribed to some sort of pay-TV service — either cable, satellite or telco. Nielsen estimated there were 116.4 TV households in the country at the time, which equals about 97.8 million homes receiving TV signals via cable or satellite. Fewer than half of TV households had a streaming subscription to either Netflix, Hulu or Amazon's Prime Video.

In the 2014-15 TV season, the five English-language broadcast networks drew a combined 35.8 million viewers in primetime, along with a 9.6 rating in the key ad-sales demographic of adults 18-49. By fall 2018, the percentage of TV households with cable, satellite or telco service had fallen to 78 percent — roughly 93.5 million of 119.9 million total TV homes. Streaming services are now in almost three-fourths of all TV homes in the U.S. In the Nielsen ratings for 2018-19, the broadcast networks averaged 28.5 million viewers in primetime, a decline of 7.3 million viewers (20 percent) since 2014-15. The drop-off among adults 18-49 was steeper, falling 35 percent to a 6.2 rating. The decline in pay-TV subscriptions isn't a perfect explanation for on-air ratings losses, as some of those cord-cutters likely replaced cable or satellite with services like Sling or Hulu's live TV package or a digital antenna. But as a proxy for "traditional TV viewing," that decline from 97.8 million to 93.5 million households — equivalent to more than 10 million people, given the average household size in the U.S. — is significant.

Case in point: CBS' NCIS: New Orleans, which premiered in September 2014 and has aired on Tuesday nights for its entire run so far. The series has finished in the top 20 in total viewers each season it has aired. During that time, however, it has fallen from an average of 17.42 million viewers in its first year to 10.83 million last season, mirroring the declines across the broadcast landscape. Those missing — or less easily counted — viewers aren't just watching Netflix or Amazon shows. The proportion of people who watch network or cable shows on digital platforms, or beyond the seven days of delayed viewing that gets measured and publicly released by Nielsen, is also growing — trends that aren't reflected in the Nielsens. Studios and networks have helped viewers by offering in-season "stacking"— that is, the ability to watch every episode of a show once it's aired, rather than just the most recent five — on other platforms. That makes it easier for viewers to miss episodes when they first air, knowing that, say, the season premiere will still be easy find two months later when they're ready to catch up. As viewing spreads out more over time, the question of whether advertisers who prop up the network model will continue paying premiums for a more diffuse audience. The question of whether a viewer is as valuable after a week as they are the night of air is still an open one. Digital viewing may not make up the whole deficit the networks have accumulated in the past five years. There's also the question of whether advertisers will continue paying premiums for audiences that are becoming more spread out. But multiplatform viewing is significant — even if it's not all that visible. Follow THR.com/Ratings for more Long View columns and ratings news.
Other Articles You Might Enjoy: